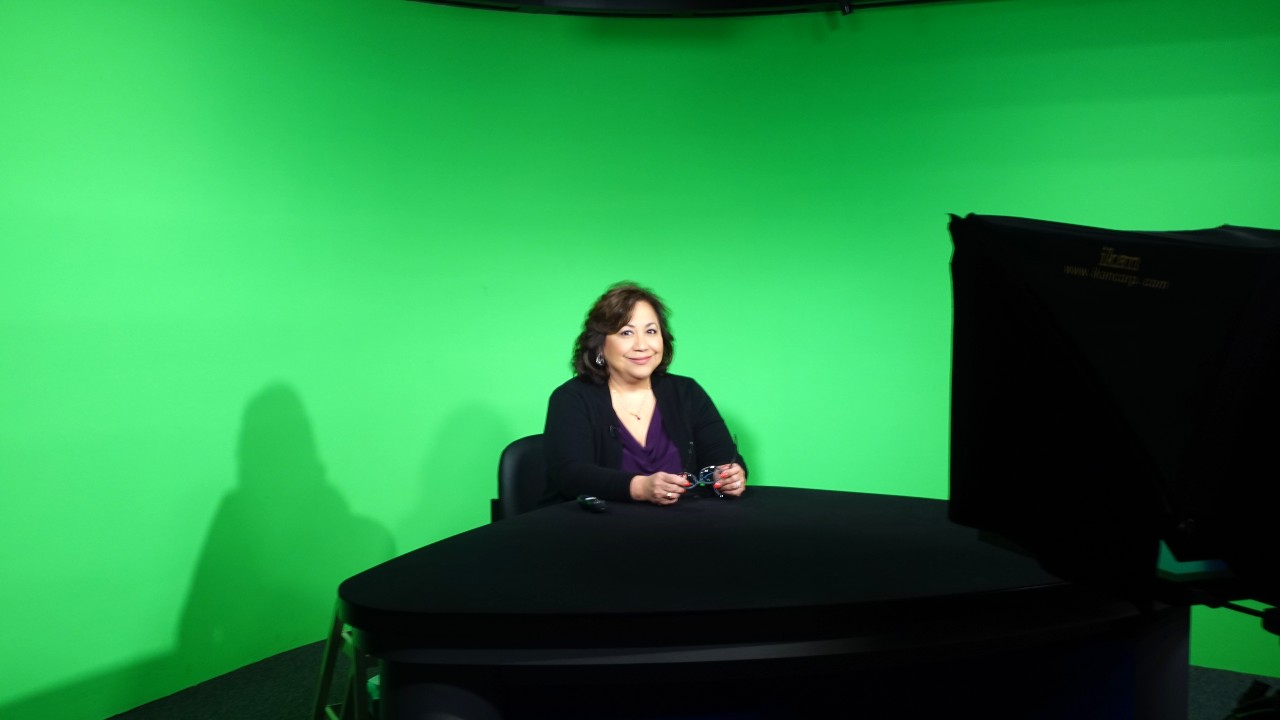 Marianne Krager, an associate trainer with Nan McKay and Associates (NMA), sits at a desk covered in black felt as she dutifully prepares for a long day's work. It's early morning, and there's a sense of calm about Krager, even with a formation of cameras aimed at her. She's clearly at ease about the task at hand.
It's cold, but not by accident. The room would be pitch black if not for the searing array of lights surrounding Krager, and the stunning glow of the green screen at her stern. Lyle Luth and Vin Rosa, members of the production team, brief Krager as she reviews notes and stares down a teleprompter.
Later, in the back room adjacent to the studio, Krager goes live while members of the production team deliberately prod buttons and turn dials on control panels that, to the inexperienced eye, appear no less complicated than a console at NASA's Mission Control Center.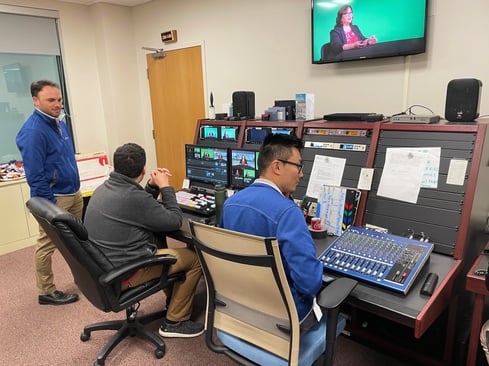 Krager isn't on the set of a bustling network morning news show, though you'd be forgiven for thinking just that.
She's in a production studio inside HAI Group's headquarters. It's not a scene you'd expect at most insurance companies. Needless to say, HAI Group isn't a typical insurance carrier; its niche services cater exclusively to the public and affordable housing industry.
The 'perfect combination'
One such service is HAI Group Online Training, a virtual training platform designed to support housing professionals. More than 2,200 housing organizations across the country rely on HAI Group Online Training for professional development. HAI Group Online Training offers virtual access to a wide variety of housing-specific continuing education (CE) and certification courses required for housing professionals in certain positions. One such course is the Public Housing Management (PHM) certification, described as a "foundational" certification by HAI Group Online Training Product Manager Brian Altshuler.
"Meaning, if you work in this industry—specifically public housing—this course offers a complete and thorough education in the field, yet it's presented in a foundational way that you, the learner, will always be able to build upon throughout your career whether you specialize in your responsibilities or remain a generalist," Altshuler said.
"This perfect combination has seen a dramatic uptick over the years as online training has taken off."
In 2022, Krager traveled from NMA's California office to HAI Group's office in Connecticut, where she spent a week in the studio filming a new version of HAI Group Online Training's virtual PHM course. NMA provides innovative solutions to neighborhoods across the country, from program administration and inspections to training and community development strategies. While NMA offers on-site PHM training, the organization has long partnered with HAI Group Online Training to offer virtual options for PHM and other critical housing certifications.
"We each play a role," Altshuler said of the partnership with NMA. "HAI Group provides the instructional design, video production, and platform, while [NMA] provides the subject matter experience and expertise, as well as the presenters of the material. This perfect combination has seen a dramatic uptick over the years as online training has taken off. "
When HAI Group Online Training and NMA first partnered up over 25 years ago, training sessions were disseminated in real-time via satellite transmissions. It was an innovative solution at the time, but not without issues (those who experienced satellite television in its early days can attest). In one incident, the satellite HAI Group Online Training relied on was somehow knocked out of orbit.
"We quickly adopted an internet-based training team, and things took off," Altshuler said. "The self-paced online certification lets the learner arrange their learning schedule around their personal needs."
Virtual learning without fear of outdated, inaccurate material
No industry is immune to change. HUD is constantly updating its public housing rules, regulations, and requirements, meaning HAI Group Online Training and NMA put in the effort to keep courses relevant.
"Over the years, we've made modifications to our overall production process that allows us to keep our pieces of training updated and accurate, yet still high-quality so that our learners can absorb and apply the lessons being taught in their day-to-day jobs without the fear of outdated, inaccurate material," Altshuler said.
He describes the typical production process as "quite robust," with a 200-point checklist that must be addressed to ensure a comprehensive and complete project. Emphasis is placed on the pre-planning process when the production team determines the 'why' behind the project.
If an idea passes the business case test, the production team moves on to logistics, such as the production type and whether the training will be recorded in the studio or remotely.
"All this gets flushed out with one goal in mind—to produce content best suited for our learners to get the most out of a specific training," Altshuler noted.
Once all ancillary materials and resources are identified, the recording process begins.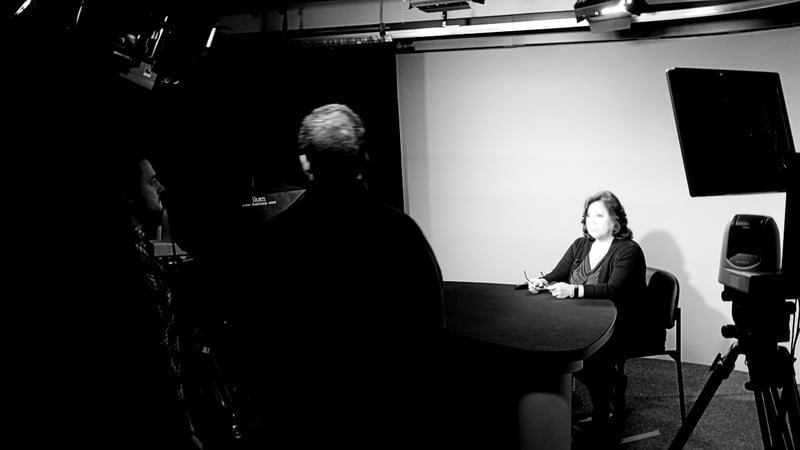 The PHM course is in the process of a complete update—and isn't a short training—so Krager spends the better part of a week sitting in front of that black desk in the studio. In front of those glaring lights, she expertly reads from the teleprompter each sentence of each section of each chapter in the training.
Getting the best out of every trainer, capturing the magic in the room
Recording content is typically more straightforward compared to pre- and post-production, with exceptions, Altshuler said. Illnesses, weather events, power outages, and unexpected critter visits have plagued the production team in the past.
"Regardless, though, our team has always rallied and been able to capture what we could and get the job done," he said. "I'm very proud of our studio team as they always come through. Whatever the challenge has been, I'm confident to say that a learner would not be able to tell based on the final content that is produced."
"That may mean we need to take an extended break at some point just to reset or push through a long day because there is magic in the room, and we want to capture it."
Another potential complication that doesn't side like one at face value: some trainers are accustomed to very large in-person audiences.
"However, to achieve the level of quality we are looking for, they are asked to present to a single camera, with no audience, in a cool, dark studio," Altshuler explained. "I often liken this to a musician playing to a live crowd versus them making a record in a sterile studio. It can take a lot of getting used to."
Trainers that HAI Group Online Trainer partners with are experts in their respective fields, so the actual content is rarely, if ever, an issue.
"What we're trying to do is get the most out of [trainers] while they're in the studio so the learner can get the most out of the content at the end of the day," Altshuler said.
Consistency is the name of the game with recording sessions that span multiple days.
"That means a learner watching the course won't be able to tell if it's 9 a.m. on Monday when the room is full of energy, or 3 p.m. on Thursday, when people start to get tired," Altshuler said. "Our team of producers and directors are highly trained and experienced in making the studio journey as fun and light-hearted, yet as professional and practical, as possible. This keeps the morale level high and gets the best out of every trainer. That may mean we need to take an extended break at some point just to reset or push through a long day because there is magic in the room, and we want to capture it."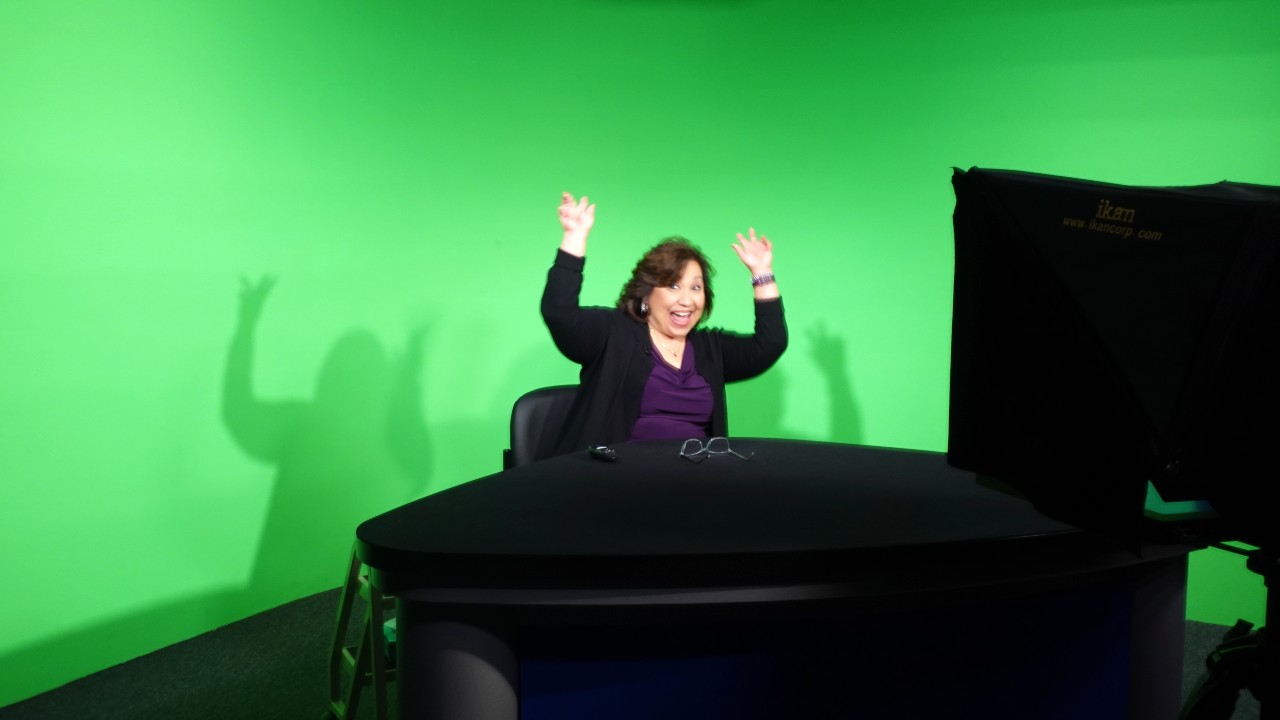 Krager brought magic to the room throughout her HAI Group Online Training recording sessions. Due to limited takes, the production team was able to ensure they captured everything they needed during Krager's stay in Connecticut.
Altshuler hones in on the concept of magic in the room.
"When you hear a very complex or confusing topic simplified into a crystal clear, concise teaching, it's just mind-blowing," he said. "Knowing that sometime soon, a learner will hear this same thing and cause something in their job to become easier or make sense, that's the magic I'm speaking about. That's the best part for me."
Putting it all together
Post-production begins the "true building, or authoring" of the course, said Altshuler.
"Our team of highly-skilled media designers review and edit the captured footage, assemble the content per the business case, and incorporate engagement objectives (used to reinforce learning objectives) and any other items deemed appropriate," he added.
The last step is to load finished content onto HAI Group Online Training's learning management system (LMS). Learners visit the LMS to access exclusive online training content.
The new version of PHM will be available through HAI Group Online Training by mid-2023.
Altshuler noted that HAI Group Online Training subscribers can order the course, when available, at a discounted rate. If you're interested in this course, please click below and fill out the form, and a member of the HAI Group Online Training team will update you on its availability.
Is PHM training right for you?
Click here to view the current HAI Group Online Training certification course, which is still active.
The PMH training is geared toward asset managers, property managers, occupancy specialists, and public housing supervisors. Nan McKay describes the training as an overview of U.S. Department of Housing and Urban Development (HUD) regulations and requirements needed to manage and improve a public housing program and each of its projects.
Trainees learn to effectively manage their project's budget by understanding the budget's key components, fees paid by their project, the collection of receivables, and vacancy reduction. In addition, PHM teaches trainees best practices in nondiscrimination, enforcement of the lease and community service, and supervising techniques. The course also covers steps to increase an agency's performance through Public Housing Assessment System (PHAS) performance measures and how to assess these measures while gaining the additional skills, responsibility, and accountability housing managers need under HUD's new asset management model.
The course also covers basic public housing program information, HUD requirements for fair housing, factors of eligibility, tenant selection, waitlist management, rent calculation, the occupancy cycle, resident relations strategies, managing a budget, and an overview of the PHAS.
---
Includes copyrighted material from a company under the HAI Group family, with its permission. this post is for informational purposed only and is not intended to provide legal advice, and shall not be relied on as such. We strongly recommend consulting with legal counsel or an appropriate subject matter expert.