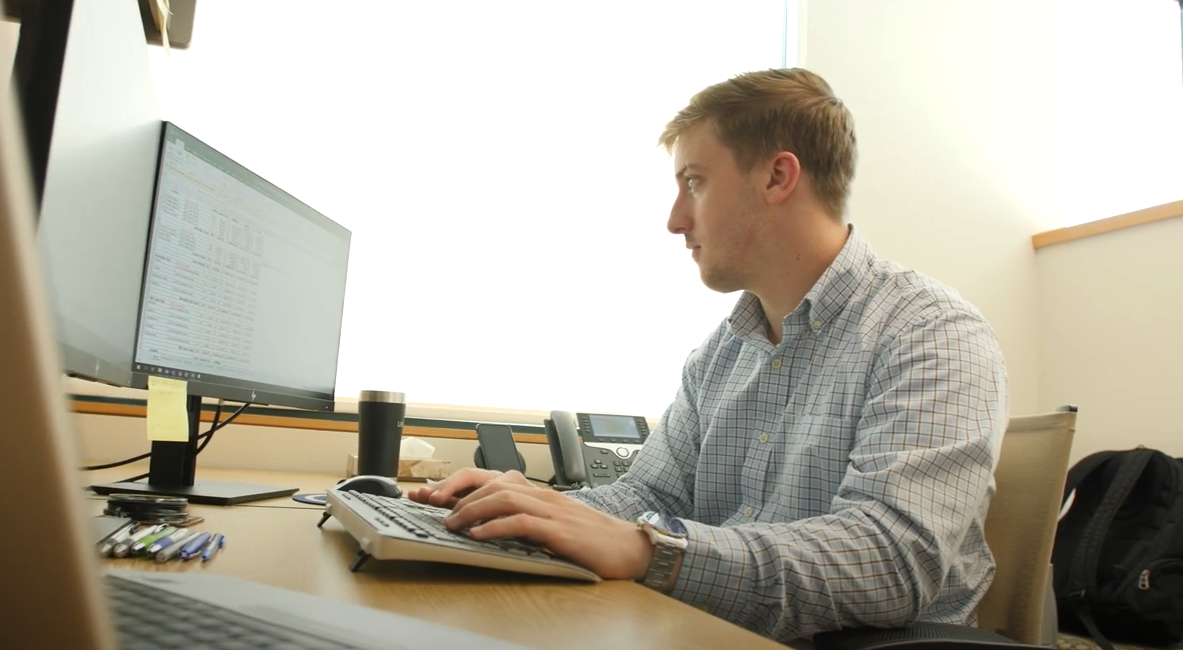 Before Matthew Higgins joined HAI Group's business development team, he learned the ropes of commercial property and liability insurance through HAI Group's internship program.

Higgins said he first heard about the internship program in 2019 through word of mouth. Tyler Mannix, a full-time HAI Group employee (and college friend) told Higgins about an open internship position with HAI Group's Account Services department. Higgins applied and was accepted, leading to internship stints in the summer of 2019 and the following winter.
During his internship days at HAI Group, Higgins split his time learning about account management and business development. Higgins recently sat down with HAI Group Senior Marketing Specialist Andrew Ragali to talk about the lessons he learned during his HAI Group internship experience.
HAI Group Business Development Consultant Matthew Higgins
---
Andrew Ragali: Tell me about your initial perception of HAI Group early in your internship? Did that perception change over time?
Matthew Higgins: When I first started at HAI Group, I quickly realized how dedicated and knowledgeable the employees here are about the niche industry they serve. It certainly took some time to learn the foundational terminology, but I found that people in every department were willing to help me. That was probably the most significant takeaway at the end of the internship program. No matter how intimidating a task may be, there was always support from the HAI Group team.
AR: Were there any life or career lessons you learned from your internship that stand out?
MH: Maintaining a professional image and networking stand out when I think back on my time as an intern. The Human Resources department was instrumental in setting up networking opportunities with different departments across the company. Sometimes the networking would be career-focused, such as an interview workshop. Later in the summer, the interns were also tasked with running an "Iron Chef" competition, which was a fun and interactive way to network with other departments.
AR: What did you enjoy most about your internship? What was the most challenging aspect?
MH: Being in Account Services, I was exposed to client-facing functions. However, I also enjoyed sitting down with other departments and learning about their daily responsibilities. It helped me to see how every department is connected in some way. The most difficult aspect was keeping up with the fast-paced environment, especially in terms of working with clients.
AR: Was your goal to land a full-time job with HAI Group after your internship? How did you end up going from intern to employee?
MH: Landing a full-time job wasn't necessarily my goal going into the internship, but I knew I could see myself in insurance when the internship ended. Insurance is a comprehensive product, and I wanted to learn more about its benefits. I also kept in touch with many of the full-time employees I interacted with at HAI Group when I went back to college. I was grateful for the support they had given me, and showing gratitude was an important networking topic we discussed as an intern group. Keeping in touch also helped me learn about open roles in Account Services, which is ultimately where I wanted to be and how I ended up here today.
AR: What lessons from your internship helped prepare you for your current job?
MH: Being in Account Services, I spent time prospecting new business, researching target states, communicating with agents and housing authority leadership, and supporting team members as needed. Meeting deadlines was important, and communicating in a timely manner was also vital. Doing this helped prepare me for the 'real world' after college.
AR: Were there one or more mentors from your internship that made a lasting impact? If so, please tell us how?
MH: The entire Human Resources team was very welcoming and created a well-rounded internship program. I also really enjoyed learning from the Account Services leadership, like Ken Merrifield, Steve Burlingame, Caroline Ruiz, and many others.
AR: What advice would you give someone considering an HAI Group internship?
MH: HAI Group is known for its exceptional customer service and dedicated staff. You'll be able to work on real projects with the support of a strong network. If you're looking to spend the summer at a Top Workplace in Connecticut, this is where you want to be.
---
HAI Group is currently recruiting for its 2022 internship program, running from June to August. There are four full-time, paid internship positions available:
Visit HAI Group's Career Center for more information.