HAI Group Donates $5K to Connecticut Foodshare During Annual Turkey Tuesday Event

Andrew Ragali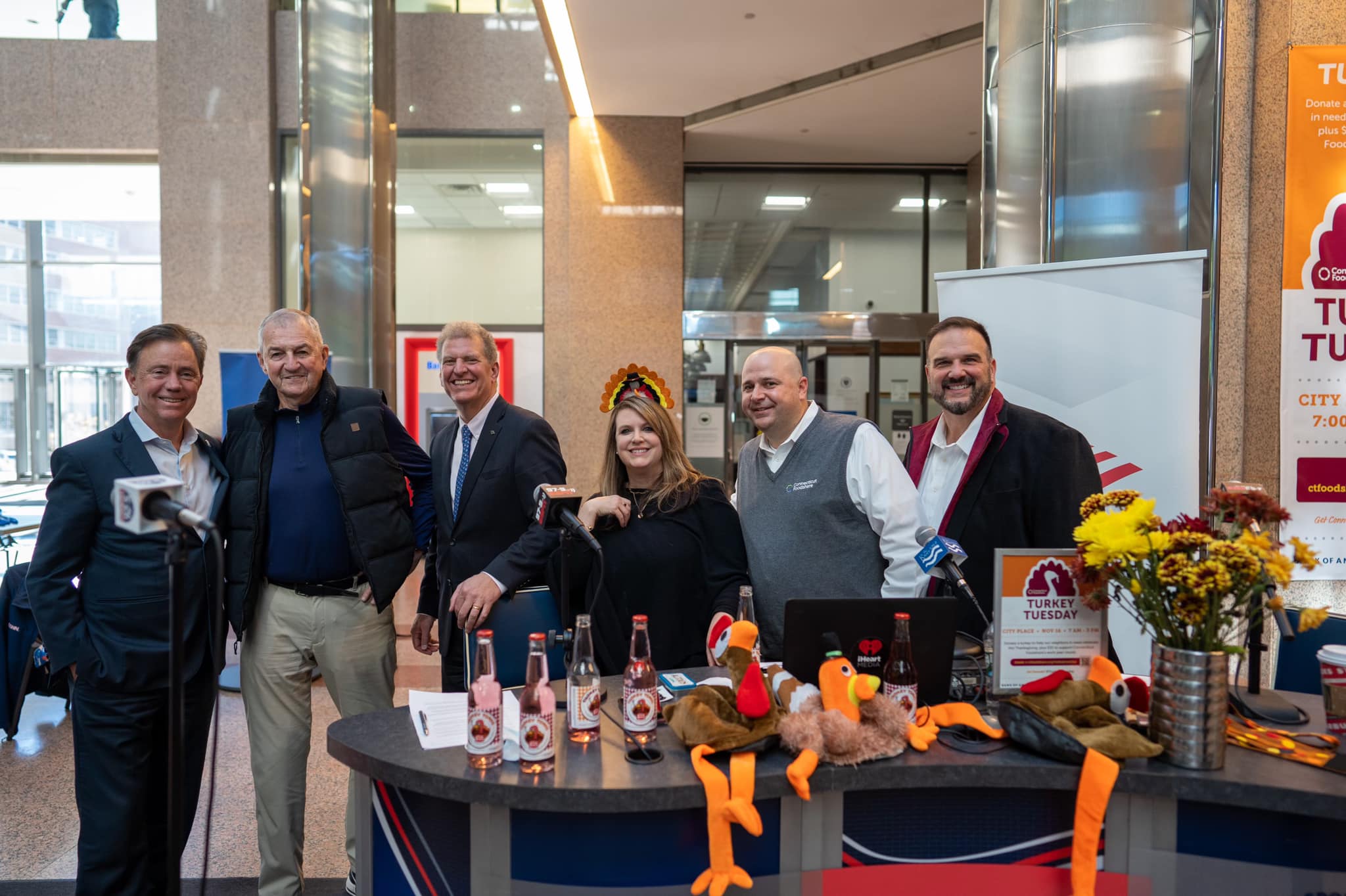 HAI Group is committed to giving back to the communities we serve and the state we call home—it's part of our DNA and culture. On Tuesday, November 17, company leaders followed up on that commitment when they visited the City Place office building in Hartford, Connecticut, to participate in Turkey Tuesday, an annual fundraising effort hosted by Connecticut Foodshare and Bank of America.
During a live broadcast interview with Renee DiNino, of The River 105.9, HAI Group President and CEO Ed Malaspina donated $5,000 to Connecticut Foodshare. Each dollar donated to the statewide organization turns into two meals for Connecticut residents in need, meaning HAI Group's donation will provide 10,000 meals to residents in the next year.
"We like to give back to the community, and this is just a wonderful way," Malaspina said.
Annual Turkey Tuesday event in Connecticut
Turkey Tuesday is part of Connecticut Foodshare's "Turkey and Thirty" campaign, which encourages people to donate a frozen turkey, as well as $30 to help food-distribution efforts year-round. According to the Hartford Courant, the event collected more than 2,000 turkeys and nearly $60,000 by midday.
Connecticut Foodshare CEO Jason Jakubowski said HAI Group's donation is meaningful "not just at this time of the year, but throughout the year."
"I think that's one of the things we try to do with our 'Turkey and Thirty' campaign," Jakubowski said. "It's not just about the turkey; it's about helping people have a good Thanksgiving, and the $30 helps our organization do what we do throughout the rest of the year."
"[HAI Group's] donation will definitely help with that," Jakubowski told Malaspina. "We have people in all 169 towns (in Connecticut) that need our services, and you just helped out quite a bit. So thank you, thank you very much."
Bank of America Greater Hartford President and CEO Joseph Gianni likened the uncertainty of the insurance business to those dealing with the unforeseen during the pandemic. Connecticut Foodshare provided meals to many residents that never expected they'd need assistance with food.
The assistance was made possible "due to the generosity of companies who can provide resources like this gift in order to help out throughout the year," Gianni said, referencing HAI Group's donation.
Jakubowski agreed, noting that his organization wouldn't have made it through the pandemic without corporations like HAI Group stepping up to help.
Click here to listen to Renee DiNino's full interview with Ed Malaspina.