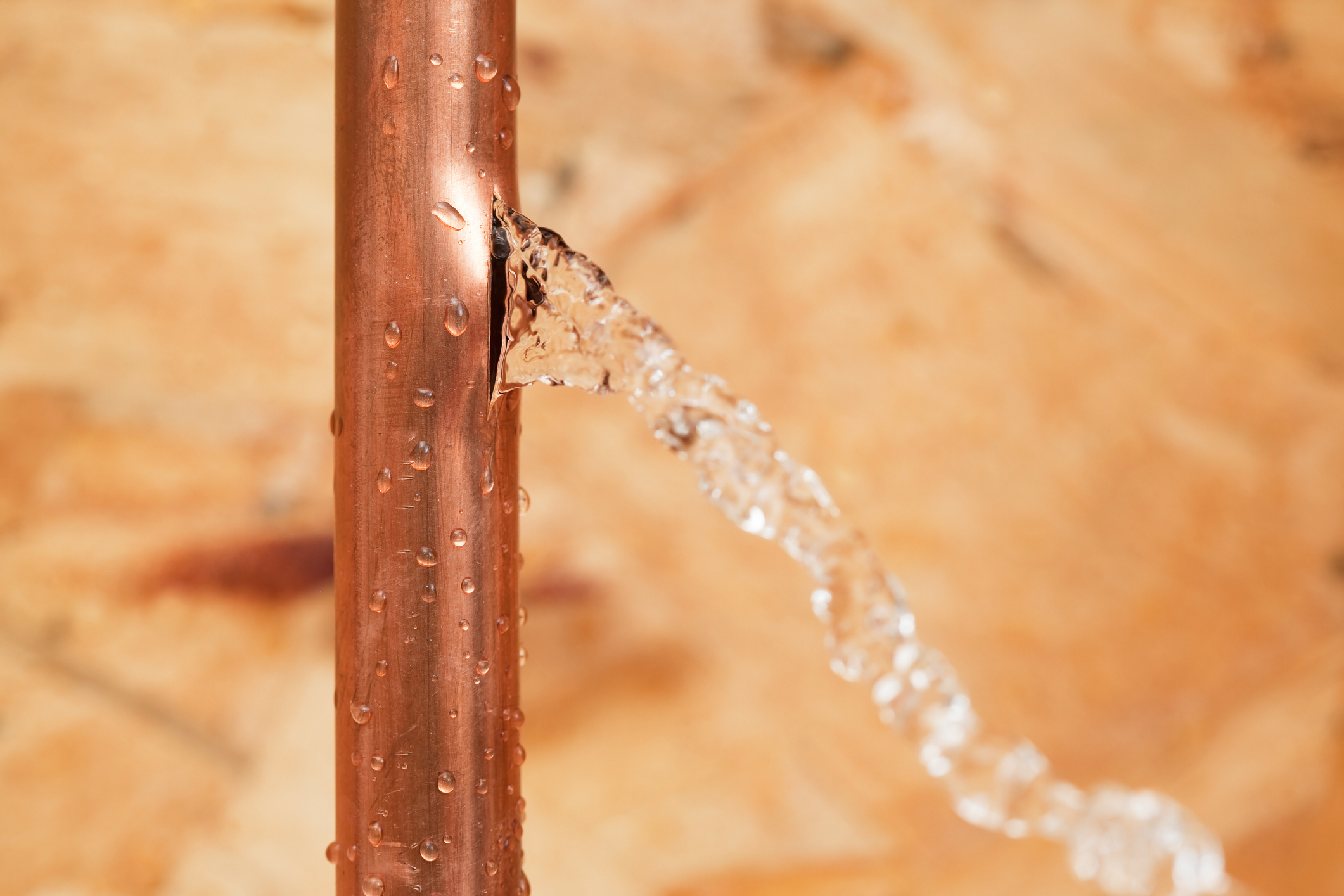 Frozen pipes are a silent threat to affordable housing properties across the country, often occurring in the out-of-sight and hard-to-reach pockets of a property.
When pipes freeze, multifamily property managers face panicky calls from residents, buildings without running water, and costly emergency repairs. Pipes freeze in every region of the country, even in states known for their milder winters.
"In warmer climates, buildings often lack proper insulation, increasing the likelihood of freezing when temperatures drop," said Elizabeth Owens, HAI Group's director of risk control and consulting.
A recent example is the February 2021 deep freeze in Texas, when housing organizations reported massive losses due to freezing pipes. At least 14 claims we received related to the February 2021 arctic blast topped $100,000 (three claims were over $1 million). Owens said the average frozen pipe claim is usually between $25,000 and $35,000. A frequent cost-adder is asbestos floor tiles in older properties. Asbestos tiles must be removed by an abatement company if damaged by water, leading to extended vacancies and loss of income.
"The size of claims related to frozen pipes can differ based on a variety of factors, such as the number of units in a building, if the building is a high-rise or single-story, and if the burst pipe occurred on an upper floor," she said.
In January 2022, we received 32 claims related to damage from frozen pipes.
Why do frozen pipes burst?
A frozen pipe can cause minor complications. If a frozen pipe bursts, it can cause widespread water damage that can impact multiple units and floors. It's a common misconception that frozen pipes burst because of ice expanding in place. In reality, frozen pipes burst due to pressure. Water molecules expand as they freeze, pushing water toward the closed faucet. Pressure builds up between the ice blockage and faucet, eventually causing the pipe to burst. Interestingly, the actual rupture often occurs where there's little or no ice.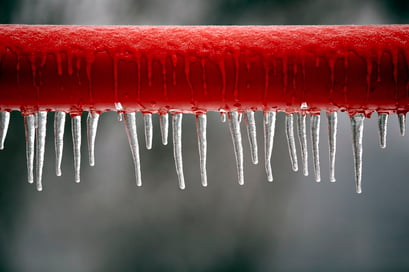 As you might imagine, pipes that are outside or in unheated or lightly insulated interior areas are at the highest risk of freezing.
Let's explore some of the different scenarios we've seen that can lead to frozen pipes. These scenarios all have one thing in common—they're preventable (and we'll explain how).
Scenario 1: Caution, wet paint
After painting a unit during the turnover process, workers left the unit's windows open to help the paint dry. The temperature dropped, leading to a burst pipe.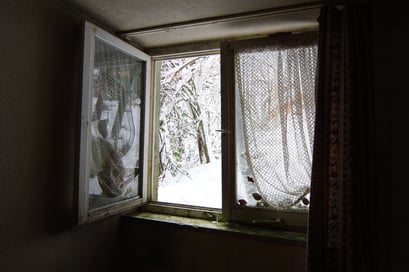 Since the burst occurred on the seventh floor of a high-rise, water damaged the floors below, as well as the building's elevator. The incident caused about $700,000 worth of damage to the property.
What to do: Ensure staff and residents remember to close all windows during cold snaps. Windows should not be left open for an extended time when temperatures are below freezing.
Side note: After painting a unit, workers often turn the unit's oven on to speed up the drying process. While this doesn't lead to frozen pipes, Owens noted that keeping an unmonitored oven on is unsafe and should never be done.
Scenario 2: Heat up or freeze-up
This scenario is all too common. Pipes often freeze because residents turn off the heat while they're away.
What to do: Inform residents that they should keep their heat at 55 degrees or higher when they're away from their unit.
Scenario 3: Too hot to handle
Residents of a high-rise building couldn't adjust the heat themselves. It got so warm that some residents left windows open to cool their units. It didn't turn out well, similar to the wet paint scenario above. Pipes ended up freezing, causing significant damage.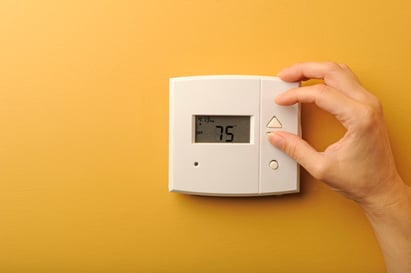 What to do: While we recommend keeping the heat on during a cold snap to prevent frozen pipes, it's essential to keep residents' comfort in mind and not overdo it. Also, reiterate to residents that windows should not be left open for extended periods, especially overnight.
Scenario 4: Not weather-appropriate
A housing organization in a cold-weather state worked with an architect from a different part of the country to design a parking structure. The architect didn't consider cold weather, and the structure was built with exposed plumbing pipes running along its exterior. Needless to say, those pipes ended up freezing, resulting in damage.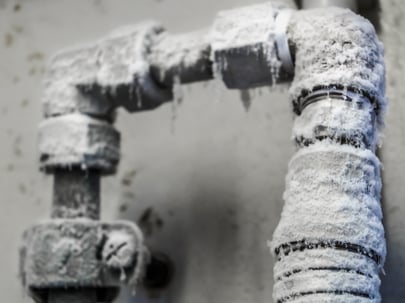 What to do: Be mindful of exposed pipes in new construction projects and while updating/reviewing current structures.
"See if there are things you can do to insulate exterior piping," Owens said. In fire pump rooms, she recommends installing a commercial-grade heating unit.
Scenario 5: Don't neglect vacancies
A property manager happened to drive by a vacant scattered-site property and noticed water pouring out of the front door. Turns out, a frozen pipe burst, resulting in a complete loss, Owens said.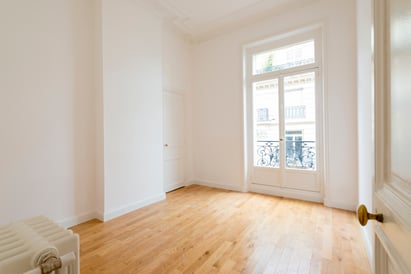 What to do:
Inspect vacant units and scattered sites daily for broken pipes, leaks, and other damage.

Make sure the heat is at or above 55 degrees.

Open all vanity cabinets to expose pipes to warmer air.

Keep all interior doors open to allow for airflow throughout the unit.

Keep all windows and storm windows closed to the elements.

Ensure that all pump rooms and sprinkler mechanical areas are heated to prevent a broken pipe or sprinkler malfunction.
Scenario 6: No props
Leaving a door propped open is more than a security risk. Owens said that standpipes in stairwells and entrances often freeze because of propped doors mixed with cold temperatures.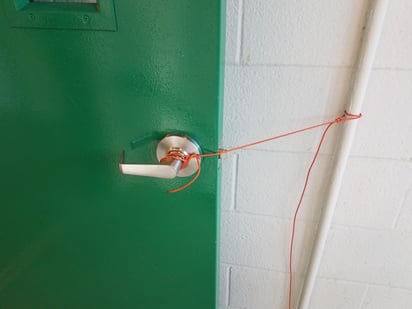 What to do: Create and enforce a policy that prohibits residents from propping doors. When freezing temperatures are expected, task staff with walking properties periodically to ensure doors are closed.
Bottom line
During winter months, make frequent inspections of properties and be aware of any changes, such as unit vacancies.
"Be alert to the warning signs of freezing pipes—bulging pipes; frost-covered pipes; a lack of running water; or a sink, tub, or toilet that will not drain—and take immediate action to prevent pipes from cracking or bursting," Owens said.
The most common pipe freezes occur in unheated interior areas like basements, crawl spaces, and exterior walls with water supply lines. Consider placing ordinary thermometers in hard-to-heat rooms (for monitoring purposes), close unnecessary openings, and make provisions for monitoring unattended facilities.
If a pipe bursts, shut off the water (know where the water shut-off valve is located so it's not a mystery during an emergency). If the burst is near electrical switches or fuse boxes, turn off electricity in that area. Contact a licensed plumber to help remedy the problem and remove as much water as possible. Consider calling a remediation vendor for assistance. Ensure all damage is documented, including photos, and contact your insurance carrier.
Know where all water shut-offs to buildings are located. Coordinate with local fire officials, so they know where to find shut-offs. Consider posting water shut-off instructions.

Inform residents on proper techniques to maintain their unit in colder weather. When they are away from their unit, they should keep their heat at 55 degrees or higher.

Ensure all windows are shut and all air conditioner units are removed.

If a pipe breaks, shut off the water immediately and contact a professional water mitigation company. Water mitigation must begin as soon as possible. Notify HAI Group of the damage within 24 hours.
Winterize completely vacant buildings
If no sprinkler system is present and all water is drained from sprinkler supply lines, plumbing fixtures, and water heaters, the heat can be turned off.

If a sprinkler system is present and has not been drained, the heat must be kept at 55 degrees or above.

Maintain all fire protection equipment per National Fire Protection Association (NFPA) standards.

Winterizing can go a step further by adding a non-toxic RV Antifreeze to the fixture and toilet traps once the lines have been drained. Be sure to post signs warning "Winterized-Do Not Use Plumbing."
Contact our Risk Control and Consulting team for more resources and answers to your housing organization's risk-related questions.
Interested in working with HAI Group? Our Account Services team is ready to assist you.
---
Includes copyrighted material from a company under the HAI Group family, with its permission. This post is for informational purposes only and is not intended to provide legal advice, and shall not be relied on as such. We strongly recommend consulting with legal counsel or an appropriate subject matter expert.