Meet Jeffrey Wade, HAI Group's 2022 Risk Champion of the Year

Andrew Ragali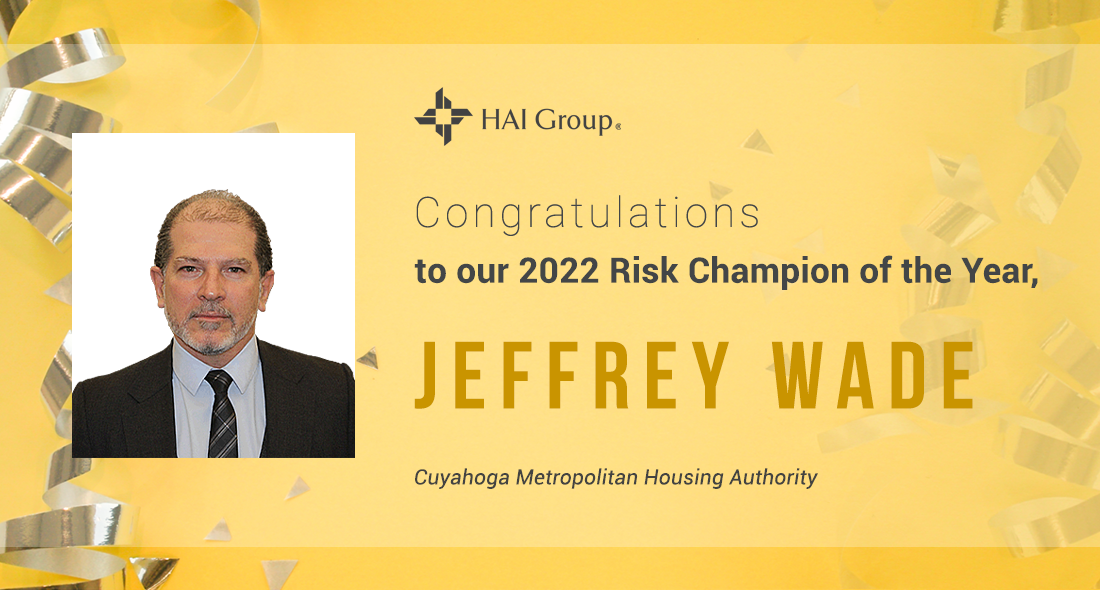 HAI Group's board and committee members convene annually to determine the winners of our Risk Management Awards, developed to recognize public housing agencies that go above and beyond to address various risks to residents and staff.
There are five award categories, the most prestigious of which is Risk Champion of the Year. The winner of this award is a housing agency employee nominated by a peer or HAI Group employee for demonstrating outstanding commitment to risk management.
HAI Group's 2022 Risk Champion of the Year, Jeffrey Wade, serves as CMHA's chief of staff and special counsel to the CEO.
"In Jeffrey's former role as director of risk management, he implemented policies and practices that he continues to manage that promote both employee and resident safety, and lower the overall risk loss ratios," said Elizabeth Owens, HAI Group's director of risk control and consulting. "Jeffrey's exemplary leadership in the field of risk management at CMHA makes him a more-than-deserving recipient of HAI Group's 2022 Risk Champion of the Year Award. We thank Jeffrey for his dedication to a safe and positive community."
During his tenure as director of risk management, Wade facilitated a paradigm shift where risk is included as a discipline among the leadership team and where risk principles are explicitly considered.
"[Wade] is animated by the desire to maximize stewardship of the public's resources with an emphasis on quality management while rendering engaged, compassionate service to families served by [CMHA's] programs," his CMHA bio notes. "Wade engages as both thought and operational leader where he fosters best practices and risk principles throughout his areas of responsibility," according to CMHA.
Wade, a practicing attorney, currently serves as the principal counselor and advisor to CMHA CEO Jeffery Patterson. He participates in all major development initiatives while providing counsel across all aspects of CMHA's operations, according to his CMHA bio.
Wade also serves on the board of trustees for Western Reserve Revitalization and Management Company, Inc., the non-profit arm of CMHA, on the executive leadership team for Purpose Built Communities (Cleveland), and on HAI Group's insurance solutions committee.
Click here to learn about the rest of HAI Group's 2022 Risk Management Awards winners.