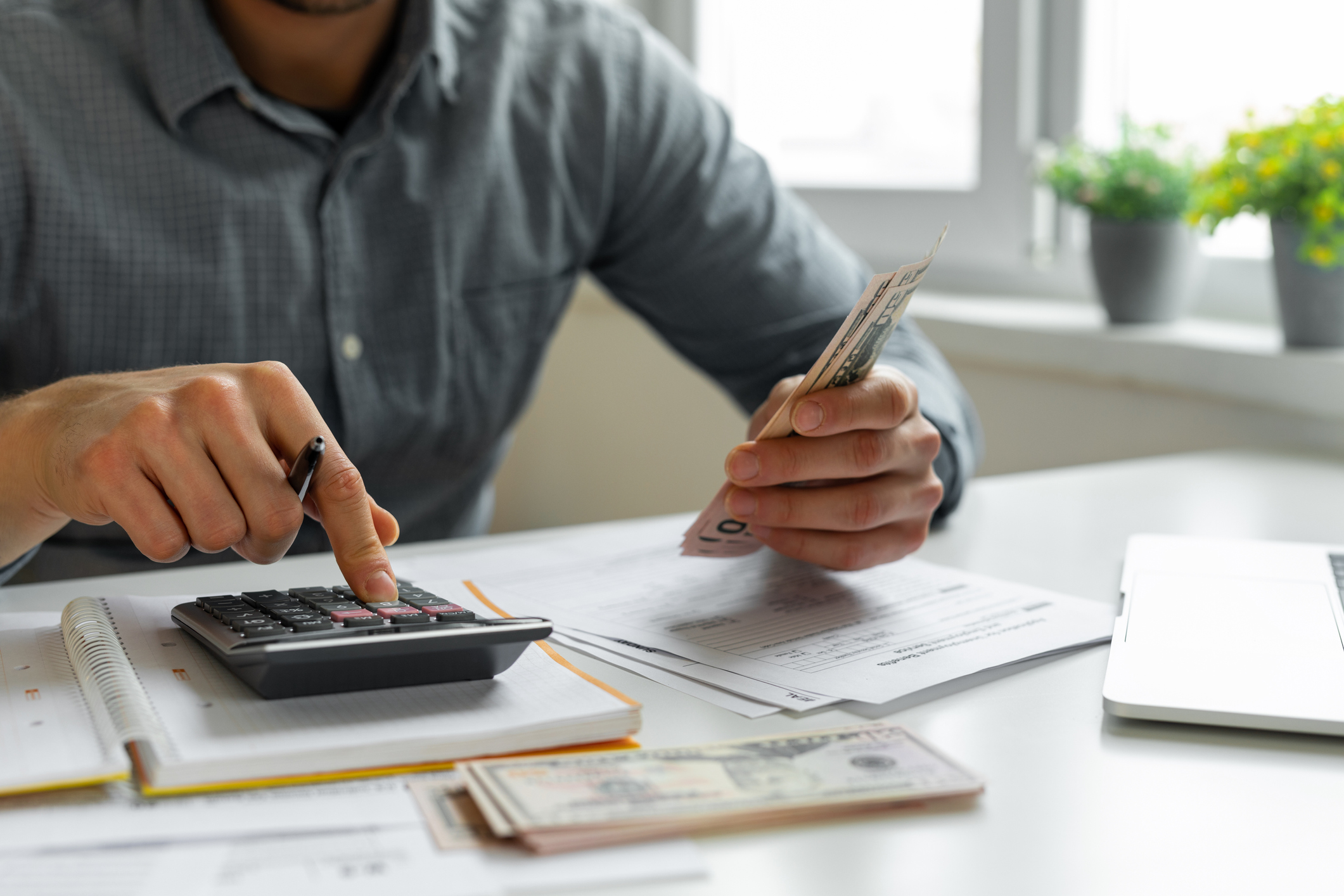 If you run an affordable housing organization, chances are your insurance agent or carrier representative has recommended that you invest in business income insurance, or BII. But what is it, exactly? And do public and affordable housing organizations really need it? Read on for answers.
What is business income insurance?
Business income insurance, also known as business interruption insurance, is a type of insurance coverage that provides financial support to businesses that are forced to shut down temporarily because of property damage.
Say a pipe bursts in one of your buildings, flooding multiple units and your administrative offices. Your commercial property insurance will help cover the cost of repairing the building, but what about the cost to outfit and relocate your office to a temporary location? You're on the hook for that—all while your rental income is taking a hit. That's where business income insurance comes in. It helps cover these expenses while your building is being repaired.
What expenses will the policy cover?
Business income insurance policies vary, but in the multifamily affordable housing industry, these policies commonly cover lost revenue from rents so that you can pay your ordinary expenses like mortgage, loans, or taxes. Payroll is also an option but isn't standard in most policies.
For how long?
You can expect your business income policy to cover your expenses for a pre-set number of days, or, more commonly, for a "period of restoration," which is how long it will take, or should reasonably take, to repair your damaged property.
Note that the timeframe can vary by carrier. For example, HAI Group's business income coverage continues until your housing organization returns to normal business operations. "This can be up to 90 days past full restoration, and beyond the policy's expiration, if that's what it takes to restore your operations," said Lynn Crisci, CPCU, ARM, HAI Group's assistant director of product development.
Be aware that a waiting period of 1–3 days is common.
What should I know about BII coverage?
It's important to note that business income insurance applies only if your property is damaged by a peril that is covered under your commercial property policy. (You can only purchase business income insurance if you have a commercial property policy.) For example, if your property is damaged in an earthquake, but your commercial property insurance policy excludes earthquakes, your business income policy won't cover your expenses while your building is being repaired. (You can always purchase additional coverage if you need it. This is where an experienced agent comes in handy.)
Covered perils commonly include theft, vandalism, wind, fire, lightning, and fallen objects. Floods, earthquakes, communicable diseases, and government shutdowns are often excluded, so be sure to read your policy carefully and talk with your agent or carrier representative about your unique needs.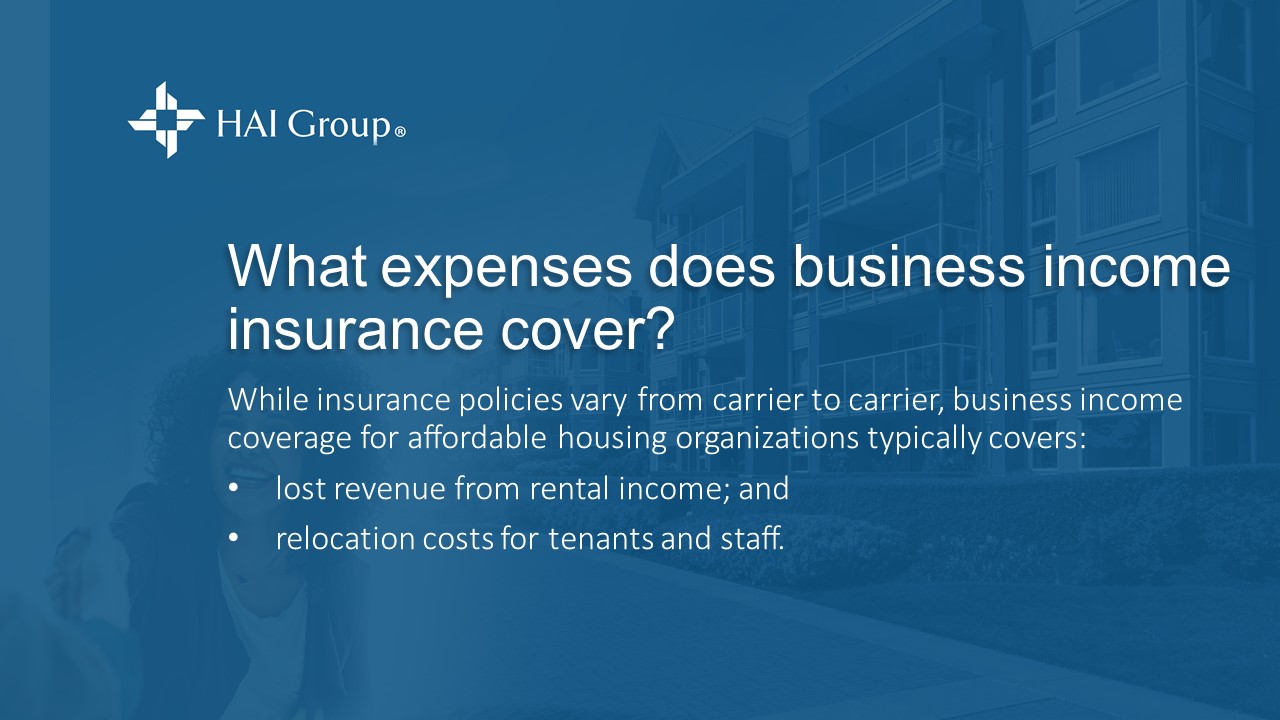 How do I get paid?
The payout you'll receive from your insurance company will be based on your historical income and expense records, so make sure you can access your rental receipts, profit and loss statements, tax returns, payroll records, and other information that pertains to your housing organization's income and expenses by storing them in a secure location (like the cloud). You won't be paid for income that isn't documented, so this step is critical.
Should housing organizations have business income coverage?
Even the most well-managed housing organization can't reliably prevent damage caused by elements like fire, wind, and water, which means your income could take a hit when you least expect it. "Generally speaking, every loss that an insured experiences can have a business interruption/loss of income component," said Pat Troiano, HAI Group's director of Claims. "It really comes down to the severity of the loss." Because these events can render your property uninhabitable, your rental income and related revenue are at risk. (You may also be on the hook for relocating your residents and providing them with alternative housing depending on the extent of the damage and the availability of other units within your properties.)
For these reasons, we typically recommend that housing organizations invest in business interruption coverage.
What is "extra expense," and do housing organizations need it?
Any type of business that has customers who rely on its services seven days a week, like housing, should consider extra expense coverage. This type of coverage, which is a component of business interruption insurance, refers to the additional costs you incur to run your business during the period of restoration—costs you wouldn't have had had there been no interruption. For example, say you need to rent a bus to transport displaced residents to temporary housing. This is an "extra expense" that your policy would cover if you have extra expense coverage.
Because we exclusively serve the affordable housing industry, HAI Group includes extra expense automatically.
"The number one claim where coverage falls short for public housing is extra expense," said Crisci. "Some carriers require customers to buy it separately, but we include it as part of the coverage."
Getting the right coverage
As with any insurance product, business income coverage can vary from carrier to carrier and policy to policy, so it's essential to review your needs with your agent or carrier representative prior to purchase.
Make sure you understand:
Which perils are covered.

Whether there is a waiting period. (If there is, ask how long it is, whether you'll need to cover expenses during the waiting period and whether they'll be reimbursed.)

What documents you'll need to provide to your carrier before they will pay.

The length of the period of restoration. (You can purchase more coverage if you need it.).
"In the housing industry, a good rule of thumb for determining how much coverage to purchase is the total rents plus the cost to transport, store goods, and pay hotel fees for tenants in the event of a fire at your largest property, meaning the one with the most units," said Crisci.
How much does it cost?
Business interruption coverage prices vary depending on factors like your location and past claims, but you can expect to pay only a fraction of the cost of your property insurance rate.
How can I learn more?
To learn more about business interruption coverage or get a quote, call HAI Group at 800.873.0242, extension 210, or talk to your HAI Group account representative.
---
Includes copyrighted material from a company under the HAI Group family, with its permission. This post is for informational purposes only and is not intended to provide legal advice, and shall not be relied on as such. We strongly recommend consulting with legal counsel or an appropriate subject matter expert.