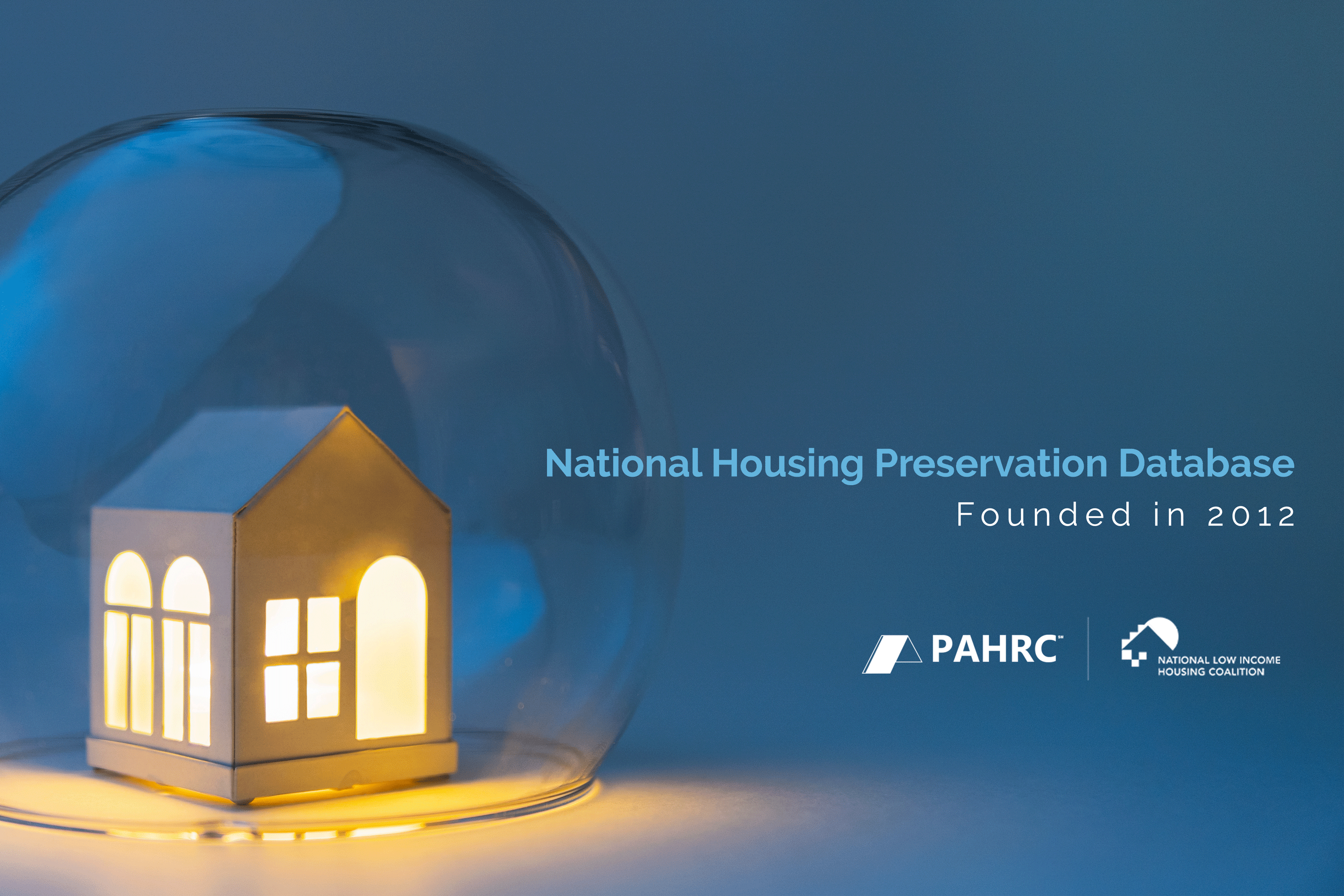 HAI Group is a proud sponsor of the NHPD, a database that helps people better understand the stock of publicly supported housing in their community and preserve affordable housing options for low-income households. Kelly McElwain, MPP, tells us more about this vital tool.
The National Housing Preservation Database (NHPD) celebrates its tenth anniversary! Over the last decade, the NHPD has become a critical resource for affordable housing stakeholders across the country, serving as the only comprehensive list of nearly 80,000 federally supported housing properties across the U.S. With support from Fannie Mae, the MacArthur Foundation, and HAI Group, the Public and Affordable Housing Research Corporation (PAHRC) and the National Low Income Housing Coalition (NLIHC) launched the NHPD in 2012 to help advocates and other housing stakeholders identify federally subsidized properties whose affordable restrictions were expiring. Over the past ten years, the NHPD has grown to be more than just a database – offering a variety of resources, from preservation toolkits to research reports. And along the way, it has helped thousands of people access vital information to better understand the stock of publicly supported housing in their community and to preserve affordable housing options for low-income households. Read on to learn more about how the NHPD became what it is today.
An Affordable Housing Crisis
At the start of the millennium, thousands of federally assisted homes lost their affordability, displacing many low-income families. Between 1998 and 2004, 120,000 homes assisted by Section 8 Project-Based Rental Assistance and Section 236 Below Market Interest Rate programs were lost after their owners opted out of the program or prepaid their mortgage. An additional 183,000 homes assisted by these programs were in poor financial condition, putting them at risk of loss through disrepair. At the same time, thousands of public housing homes were demolished or disposed of between 2000 and 2016 due to chronic disinvestment.

A Partnership to Protect Affordable Housing
As owner exits and disrepair threatened the subsidized housing stock across the country, advocates and congressional leaders called for the development of a nationwide database to track where federally assisted homes are located, when their affordability restrictions expire, and where these homes are being lost to inform preservation plans. In response to this, PAHRC and NLIHC launched the NHPD in 2012.

Developing and preserving an affordable property often relies on funding from multiple programs awarded by numerous agencies to make the cost of development pencil out. By bringing together data on properties assisted by federally funded project-based housing programs, the NHPD allowed community stakeholders and government agencies to get a deduplicated count of the federally assisted rental stock in their area for the first time, target preservation efforts, and monitor program compliance.

An Evolving Database to Meet Additional Needs
Since its launch a decade ago, the NHPD has evolved to include new data and features that equip activists to advocate for the preservation of affordable housing. Data on additional federal and state funded housing programs and property characteristics were added to provide more insight into preservation risks. Reports that summarize characteristics of the housing stock across communities and states help stakeholders document the challenges and housing stock in their area.
Today, the NHPD is used by a variety of affordable housing stakeholders, including:
A Vision for the Future
PAHRC and NLIHC are committed to continually enhancing the NHPD and adding new reports and tools to help stakeholders preserve and expand access to affordable housing across the country. If you're interested in supporting the NHPD, visit our website, or contact us at questions@preservationdatabase.org.

To get started using these data for your own community, register here.
---
Includes copyrighted material from a company under the HAI Group family, with its permission. this post is for informational purposed only and is not intended to provide legal advice, and shall not be relied on as such. We strongly recommend consulting with legal counsel or an appropriate subject matter expert.